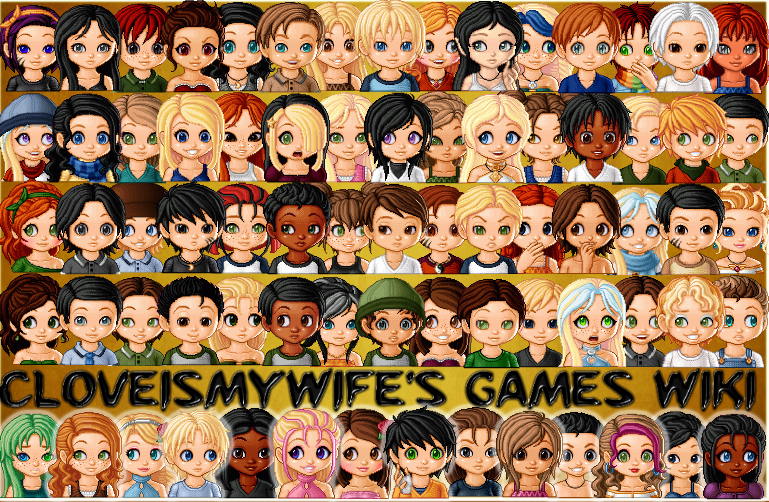 This is a poster depicting many of the high-ranking tributes of Cloveismywife's various fan-fic Hunger Games. The victors are in the bottom row, and other high-placing tributes are in the other rows. Tributes on the left placed higher than tributes on the right.
Welcome to the Cloviesmywife's Games Wiki
This wiki is for the Hunger Games fan-fiction games written by Cloveismywife, along with the tributes submitted to them.
Help
If you need some help with your tribute or games information, infoboxes, templates, chatting or any type of problem, contact one of these admins:
Cloveismywife (Founder; Very Active)
Annamisasa (Very Active)
ViniciusDeAssis1999 (Very Active)
FrostSnake (Very Active)
~PopTart~ (Very Active)
Community
Don't know where to start?
You can find out more about the wiki visiting the pages of the tributes and the Games.
If you are new to wikis, check out the tutorial, and see Help:Contents.
Visit the Forums to discuss the Cloveismywife's Games Wikia content!
And remembering that the tributes need to follow a template for the page. Piper Bridges and Katy Belle are good example of templates.
Community content is available under
CC-BY-SA
unless otherwise noted.